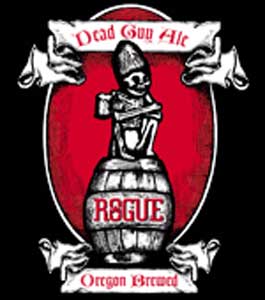 Recipe from Don Osborn via
Zymurgy
Grains
10 lbs Rahr two row pale
2 lbs Munich 4.0L
1 lb Briess Caramel 15L

Hops

1 oz Perle 7.7% AA 60 min
.5 oz Saaz 3.7% AA 60 min
.5 oz Saaz 3.7% AA 10 min
Yeast
Rogue PacMan yeast

Additives
Whirlfloc (crushed and tossed in at 15ish)
WEAST yeast nutrient (at 10)
Campden (in the water)
Notes:
4/2/10: Really smooth brew day, although I was mostly by myself. Ed did come over, but stayed long enough to see the mash. He suggested that I was doing a Dead Guy Ale as it was Good Friday, but that hadn't crossed my mind. Hit my mark of 1.056. The color was dead (huh huh) on. Fermented right away.
4/3/10: Fermenting nicely...I sure love that Pacman stuff.
4/14/10: Kegged. FG was around 1.010ish (my hydrometer is off, I took a reading of pure water at 1.008 and it should be at 1.000)
4/23/2010: Side by side comparison.....
Rogue-Spicy mouth feel, smooth drinking, and REALLY good.
Poorhouse-Sweet, smooth drinking, and pretty good.